Woman Flees Wildfire On Bike Carrying 70-Pound Dog In Her Duffel Bag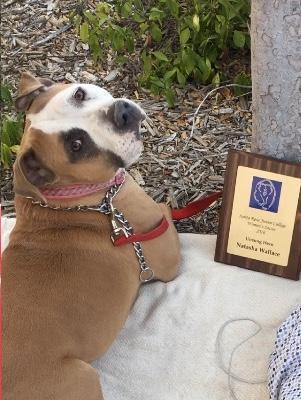 Natasha Wallace, like many in the destructive path of California's wildfires, had moments to escape the danger. But, she made sure not to leave behind her most precious possession – her dog. 
Natasha, a college student in Santa Rosa, California, had been studying on campus across town from her home until nearly 2 a.m. As she drove home, she saw the flames headed towards her house. Immediately, Natasha thought of her 4-year-old pit bull Bentley, who was waiting for her at home. 
Natasha rushed home, packed her precious pup in her car and took off. However, she was stopped by heavy traffic while the flames continued to rage and get closer. 
"It was coming faster than I could leave in traffic, so I went back and got my bike," Natasha told FOX 40. 
After driving back to her house, Natasha retrieved her bike and a duffel bag to carry her precious cargo – Bentley.
GoFundMe 
"So I grabbed my dog and I told him, 'Hey man, this is serious, you need to just sit in the bag.' And he, he hopped right in," Wallace told FOX 40 of her 70-lb dog. 
"It was hard. I was trying to avoid the branches and everything on the road. The first 2 miles were OK. I was going off pure adrenaline, or supermom strength," she told The Dodo. "Bentley just sat there the whole time, like a super good boy."
Wallace rode her bike for several miles away from the fire with the duffle bag carrying Bentley strapped to her. Eventually, a driver spotted Natasha and Bentley and gave them a ride the rest of the way. 
They were safe, but like many people in the area, Natasha lost her home and nearly all of her belongings. Currently, she and her pup are staying with family as they begin to pick up the pieces and move on. While it's hard to cope with all that was lost in the devastating wildfire, Natasha knows that the most important thing of hers was saved. 
"You can pack hundreds of dollars worth of material things, but my dog is priceless," she told The Dodo. 
To help Natasha and Bentley as they move on from the devastation, consider making a donation to her GoFundMe account. 
Written By: Max