Texas Man Caught On Camera Abandoning Dog On Side Of Road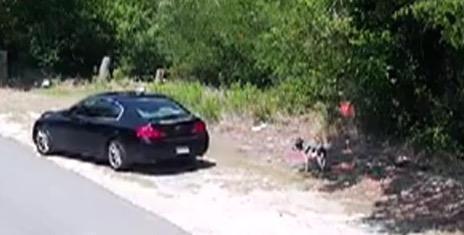 A man in Texas was caught on video abandoning a dog on the side of the road at a known dumping site before driving off. 
The man, identified as George Spears, pulled his car over to the side of the road, got out and opened his back door before grabbing a rope to pull the dog out of the car. When the dog gets out of the car, he ditches the rope, gets back in his car and then quickly drives off.
 According to the Society for the Prevention of Cruelty to Animals of Texas, the 1-year old female dog was discovered by witnesses the next day before she was picked up by Dallas Animal Services on August 6. 
After being transferred to the Texas SPCA, the dog now named Claira-Belle was adopted on September 9. 
The cameras that captured the heartbreaking abandonment were installed by the Dallas Marshal's Office in order to help catch people who abandon animals in the popular Texas dumping site in South Dallas.
After footage of George Spears dumping the dog was released to the public earlier this week, he turned himself into the authorities on September 11. He is currently facing a charge of cruelty to animals. According to the SPCA, Spears said he wanted to rid of the dog because his sister was unable to control it.
Written By: Katie