Helpless Senior Dog Abandoned By His Family Was So Hungry He Ate Rocks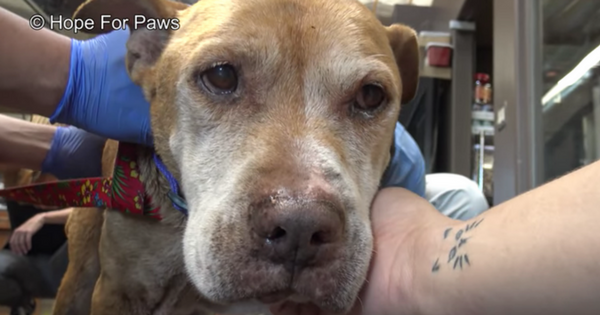 When Stewie the dog's family moved away, they didn't take him with them. The sad and helpless dog stayed at his family's old home in the hopes that they would one day come back for him. According to neighbors, the family had moved out a year prior and left their dog alone to roam the streets. 
Hope For Paws, a non-profit animal rescue group in California, was called about the poor senior dog that had been abandoned by his family. They found him hiding in the home's crawl space, but the dog was so scared that he ran away from them. 
Rescuers waited for the dog to return to the home that he was apparently attached to in the hopes his owners would return. And sure enough, the dog returned and rescuers were able to get him before he could hide again. 
Stewie was distressed and did not understand that the rescuers were there to help him. But with some help from the neighbors, Stewie was carried into the crate and then loaded into the car. The neighbors and rescuers were elated that Stewie was finally taken off the streets and on his way to a better life.
Once taken to the vet, it was discovered that Stewie was "literally starving" and an x-ray showed that he had actually eaten rocks. When Stewie was being bathed, it was discovered that he had tumors all around his body. Thankfully, they were benign and able to be removed.
Once Stewie was met with love and affection, his sweet demeanor really began to show. He quickly warmed up to the rescuers once he realized he was finally safe and sound. 
Currently, the sweet pup is in foster care, where he's receiving the love and care he deserves. Now, Stewie needs a loving home that will lead to his happily ever after. If you're interested in adopting sweet Stewie, visit www.GrandPawsRescue.org.