Check Out These Patriotic Pets Ready For July 4th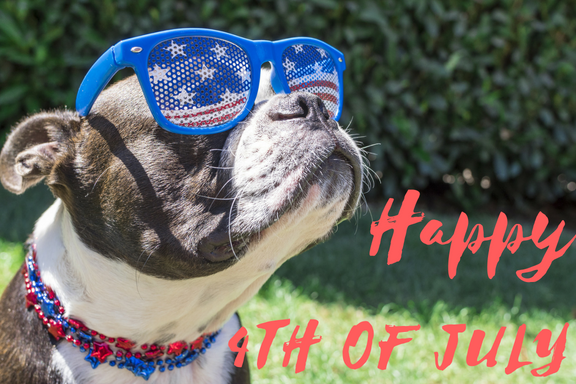 These pups are as excited as we are for this 4th of July! 

🐾



🐾

🐾

🐾

🐾

🐾

🐾

🐾

🐾


🐾

🐾

🐾

🐾

🐾
🐾
Celebrate safely with your pooch this Independence Day with the following tips:
1. Make sure your dog has an updated ID-Tag
2. Exercise your dog early in the day before the party begins
3. Tell your guests to play with the dog away from the grill and campfire
4. Keep charcoal, fireworks and sparklers away from pets
5. Bring dog treats to keep your pooch happy and to have others feed them
6. If you leave your dog at home, take out a frozen stuffed treat for them during the fireworks
7. If your dog is afraid of loud noises, leave gentle music playing to cover the fireworks 
Share this article
written by
Cristina Villalon
Related articles
Thinking of adopting a cat or dog, but already have a cat or dog? That's confusing. But this article isn't! Find out how to keep both pets happy here!
Read more >
dog blog
dogblog
treatadog
veterans
National K9 Veterans Day falls on March 13th annually, because on March 13, 1942, the United States Army K9 Corps was formed. In honor of National K9 Veterans Day, here are five things you may not know about hard-working and loyal military dogs.
Read more >
Keep your pups safe and happy this 4th of July with these quick and helpful tips!
1.) Keep Your Dog Inside
It's best to keep your dog inside during Fourth of July celebrations. Make sure to bring them in the house instead of keeping them in the yard. Block out loud sounds and bright flashes of light by keeping your pup in a room where they're comfortable, closing the blinds and turning on the television or turning up the music. If your pup is crate trained, put them in their crate covered with a blanket to make them feel safe and secure. Make sure to check on your dog and show them lots of love and encouragement to reinforce the sense of security. 
Read more >