Watch: Family Drives 16 Hours To Rescue Dog From Crowded Shelter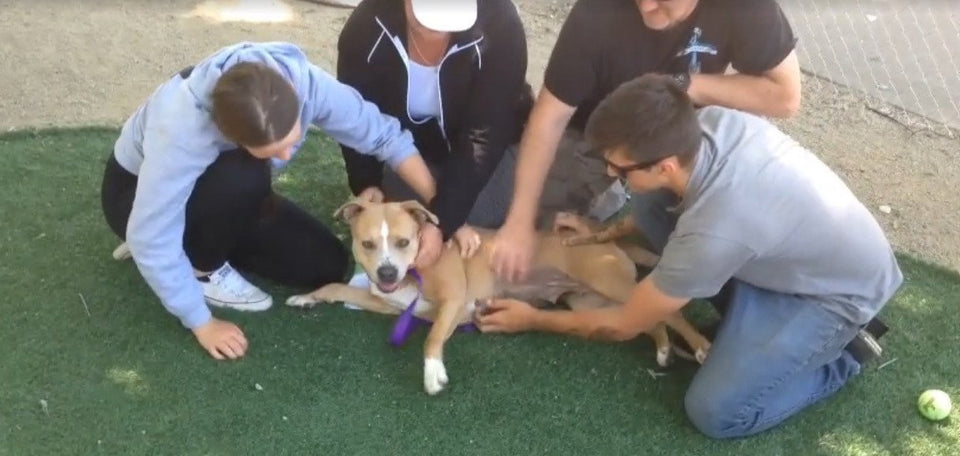 One Canadian family went above and beyond to rescue Joyce, a dog who resided in the Front Street Animal Shelter for the past two months, where she looked on with sadness as she watched people pass by her cage to rescue her fellow canines. 
On May 31, the Front Street Animal Shelter, located in Sacramento, California, announced in a Facebook post that it had a crisis as it was "extremely crowded" and they had "run out of space." When the Canadian family saw this, they decided to drive to Sacramento, California all the way from British Columbia, Canada to adopt one lucky dog. 
That lucky dog was Joyce. According to the caption posted on Facebook with the video shown above, Joyce was at the shelter for two months, where she almost gave up hope. But her luck changed when the Canadian family decided to make the long drive to save a life in the time of crisis. Joyce, as shown in the video above, couldn't be more elated to finally have a forever family. 
If you're interested in adopting a furry friend, consider the Front Street Animal Shelter, where adoptions are free throughout the entire month of June to help save as many animals as possible and get them to the forever homes they deserve.
 Written By: Alice
Related articles
Soshe
the Maltese dog survived Hurricane Florence flooding by floating on a living room sofa for a week! 
Read more >
dog
fall
pumpkin
treat a dog
A visit to a local pumpkin patch with your dog can certainly make for some wonderful memories not to mention some great photo opportunities! But, before you plan on bringing your pooch along to the pumpkin patch, be sure to check out these tips!
Read more >
Blog
Dog
dog bed
dog news
The average dog spends a whopping 14 hours per day sleeping. In fact, dogs spend more than half their lives dozing off. As a pet owner, it's important to give your dog a comfortable bed of their own where they can sleep at night and nap throughout the day. And one of the most comfortable beds you can get your furry friend is a memory foam orthopedic dog bed. 
Read more >