Dogs Bring Comfort To Victims Of Tragic Parkland Shooting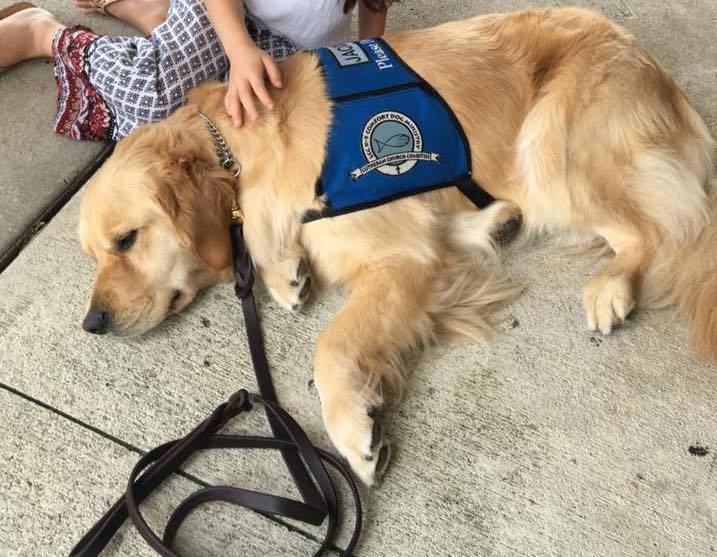 This is Jacob, he's a "comfort dog" whose been to Las Vegas, Orlando and now Parkland to comfort victims of mass shootings. 8-10 other golden retriever comfort dogs are on the way, per Mike Flaherty of Lutheran Church Charities. Jacob's harness says "Please pet me." pic.twitter.com/HGoJRKoPNi

— Lucas Daprile (@LucasDaprile) February 15, 2018
Comfort dogs are bringing their love to the victims of the recent tragic Marjory Stoneman Douglas High School shooting. The canines are offering support to the grieving South Florida community after the school shooting that took place on Wednesday, February 14th, and claimed the lives of at least 17 people, including a lot of students and a few teachers at the high school in Parkland, Florida.  
"Comfort dogs" have been shown to lower blood pressure and decrease anxiety levels. Jacob the Golden Retriever is a comfort dog that has been to Las Vegas, Orlando and now Parkland, Florida, to comfort victims of mass shootings. The sweet Golden Retriever is an LCC K-9 Comfort Dog In-Training for Lutheran Church Charities and interacts with people at churches, shootings, nursing homes, hospitals and in disaster response situations. 
Four-year-old Jacob wears a  harness that reads "please pet me" and is one of approximately 19 dogs in Parkland, Florida, supporting the local community as they grieve for those family and friends lost when Nikolas Cruz opened fire at Marjory Stoneman Douglas. 
"We found that kids do better petting a dog than they do talking to a counselor," Mike Flaherty, Jacob the Golden Retriever's handler, said. 
In fact, according to a study completed last year by the University of Florida, it was found that dogs in pet-owning families make children feel less stressed altogether and help them feel more at ease. 
What differentiates dogs like Jacob from household dogs is that they are specially trained to be calm and support people who are in need of it. You can follow Jacob the sweet comfort dog here.