4 New Year's Resolutions You Can Make For Your Dog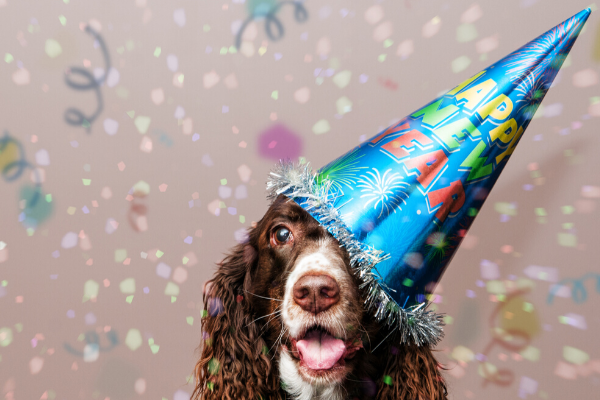 Fur-well 2019, hello 2020! It's the New Year and chances are you rang it in with some resolutions for yourself you're determined to keep in 2020–eating healthier, exercising more and so on. 
If you're a pet parent, you'll also want to make sure your furry friend kicks off the new year right, too! The start of a new year can mark a fresh start for dogs needing a change in their routine. Whether you need to make that vet appointment you've been meaning to schedule for your pooch or you need to commit to a new diet for your furry friend, we've got some goals to help your four-legged friend live start 2020 off on the right paw! 
1.) Get more exercise
Have you ever noticed how energized you feel after you get exercise? It's proven that dogs also feel energetic and happy after getting a little exercise! 
Since your pooch can't go to the gym, it's up to you to create a routine that will give them the proper amount of exercise on a daily basis. Exercise needs can vary per age and breed of dog so make sure to consult with your veterinarian to determine the best fitness plan for your furry friend. 
It can be as simple as taking a 10-minute walk around the block every evening or playing a few rounds of fetch with your fur friend. Exercise offers your dog many benefits, including healthy joints,  mental stimulation, and much more. A little exercise will not only better your dog's health, but it will also strengthen the bond between you and your pup, as well. 
2.) Lose weight
A whopping 50% of dogs in the United States are considered overweight. If your pup is overweight, they can develop all kinds of health issues, including heart disease, diabetes, difficulty breathing, arthritis and more. It may be hard to resist those puppy dog eyes, but try to avoid giving in and handing your dog scraps from the dinner table. Too much people food is a leading cause of obesity in dogs. It's also important to give your dog treats in moderation. 
When determining a weight-loss plan for your pet, make sure to consult your vet for help with exercise routines, food type and portions for your dog's breed and age. 
3.) Learn something new
Whether you have a puppy or a senior dog, dogs of all ages can learn new tricks. Both you and your fur baby can benefit from the training process. Teaching your dog a new trick challenges their mind and enhances their focus. It also serves as a bonding experience for the both of you as you both work to achieve a goal together. 
4.) Go to the vet
Take your pet to the doctor at least once a year. Keeping up with your pet's vet appointments will ensure your fur friend's health is in check. Vaccinations, teeth cleanings, and more are important to make sure your pooch is healthy and happy as can be.