Dog Owner Discovers Hot Dogs Stuffed With Razor Blades In Her Yard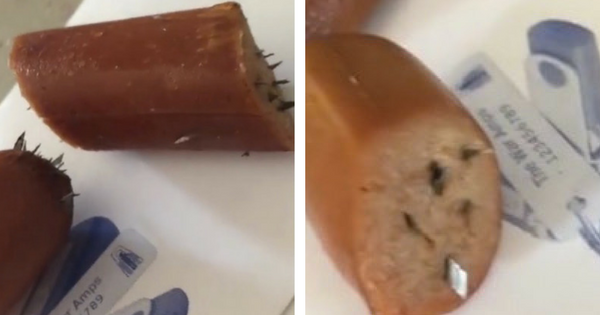 A woman in Saskatchewan, Canada made a shocking discovery when she took her two dogs, Pandora and Ophelia, out to do their business. 
"It was super nice out so I decided to sit on the front patio while they go do their business, until I noticed my border collie Ophelia sniff a piece of meat that was in the yard," the dogs' owner Emma Medeiros told BuzzFeed Canada. 
Upon further examination of the meat in her yard, she discovered several pieces of hot dog stuffed with razor blades. Medeiros was horrified. "I don't think I have ever been so shocked in my life. It astounds me that someone would want to hurt my precious dogs, or any dog in that manner." 
Medeiros uploaded the video shown above of her horrifying discovery to her Facebook page and warned fellow pet owners to check their yards. She has also contacted the authorities and her local humane society. 
"It could have been someone's child playing out front and not knowing any better and sticking that in their mouth," said Medeiros. "It's terrible to think of."
Written By: Athena
Related articles
Soshe
the Maltese dog survived Hurricane Florence flooding by floating on a living room sofa for a week! 
Read more >
dog
fall
pumpkin
treat a dog
A visit to a local pumpkin patch with your dog can certainly make for some wonderful memories not to mention some great photo opportunities! But, before you plan on bringing your pooch along to the pumpkin patch, be sure to check out these tips!
Read more >
Blog
Dog
dog bed
dog news
The average dog spends a whopping 14 hours per day sleeping. In fact, dogs spend more than half their lives dozing off. As a pet owner, it's important to give your dog a comfortable bed of their own where they can sleep at night and nap throughout the day. And one of the most comfortable beds you can get your furry friend is a memory foam orthopedic dog bed. 
Read more >