Dog Loves Looking After Baby Chickens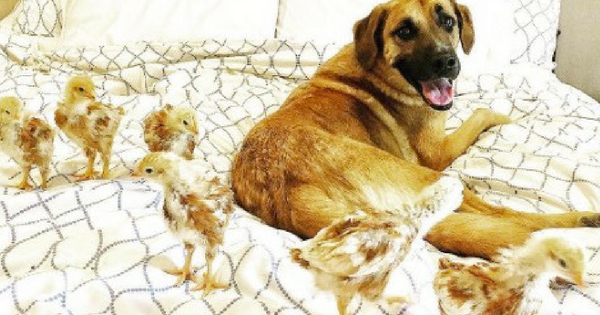 Brittany Gillott and her husband adopted their sweet dog named Mac four years ago from a rescue group in Nashville, Tennessee called Love At First Sight. From the moment they brought him home, they knew he was the sweetest dog.
"When we got to the adoption center, he was really calm and quiet, and he just stayed that way," Gillott told The Dodo. "He's a really lovable dog – everybody who meets him falls in love with him. He's gentle and kind, and he loves other dogs."
Though Mac's family knew the dog had a kind demeanor around other dogs, they weren't so sure how he would react to another type of animal – baby chickens. So, Gillott kept the chicks in a secluded room inside the house away from Mac.
But, one day, Mac managed to make his way into the room and he would just sit on the floor and stare at the chickens through the clear plastic container the chickens were in.
 Not too long after, Mac became infatuated with the chicks and he would want to see his animal counterparts before he even ate his breakfast. 
"Normally in the morning, he wakes me up by nudging me because he's so excited to eat and go outside," Gillott said. "But even before he ate, he wanted to go see the chicks. It was really cute. He was constantly watching them to make sure they were OK," Gillott told The Dodo.
When the chicks got a little older, Gillott was still a little apprehensive about the chicks and Mac interacting. But, soon enough, Mac's family realized they had nothing to be nervous about.
"We'd take them out for a few minutes at a time, so he could get used to being around them, and he would just wag his tail and sniff them, and he'd let them run around him," Gillot said. "He never once pawed at them or bit at them or anything like that," she added. "We don't worry about them at all."
Now that the chickens are older, they live in the garage and have access to roam around in the yard. And Mac continues to look after and show affection towards his chicken friends. What a pawesome big brother! 
Written By: Fleet