Dog Dies From Saltwater Poisoning At Florida Dog Beach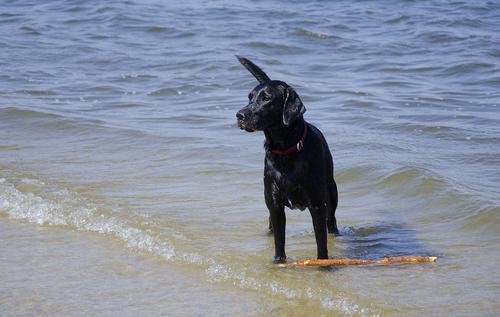 Chris Taylor is shocked and devastated after losing his beloved 7-year-old dog to saltwater poisoning following a day at the dog beach.
According to WFLA, the University of South Florida student, 29, would often take his beloved Labrador Retriever O.G. to the beach to soak up the sun and play in the water. In fact, O.G. loved the water and always looked forward to going to the beach with his human dad. 
Last Monday, Chris and O.G. headed to the Honeymoon Island State Park Dog Beach in Dundein, Florida. After a few hours of fun, the Lab and his dad headed home, where the dog started vomiting and having diarrhea. The next day, Tuesday, O.G. was able to drink a little water and eat some of the rice and boiled chicken Chris prepared for him. But by Wednesday, the dog's condition worsened. He wasn't eating at all and was wandering around aimlessly. Chris rushed his dog to the vet, but sadly it was too late. The vet revealed that O.G. was dying from saltwater poisoning, which can result when dogs ingest large amounts of saltwater. O.G. was suffering from severe dehydration, brain damage, and seizures, which are all symptoms of saltwater poisoning. 
"They told me, there's nothing we can do right now. I thought this is my son. I don't have children of my own," Chris told WFLA. 
After tragically losing his four-legged best friend, Chris is sharing his story to warn others about the dangers of saltwater poisoning. According to Dr. Katy Meyer from Tampa Bay Emergency Veterinary Services, if you plan on taking your dog to the beach, spend a maximum of two hours and take breaks every so often with enough fresh water on hand for your four-legged family member. 
If you suspect your pet could have saltwater poisoning, it's imperative you get them to the vet as quickly as possible so the treatment for things like dehydration and brain swelling can begin.