Airport Service Dog Gets Honored With Pawesome Retirement Party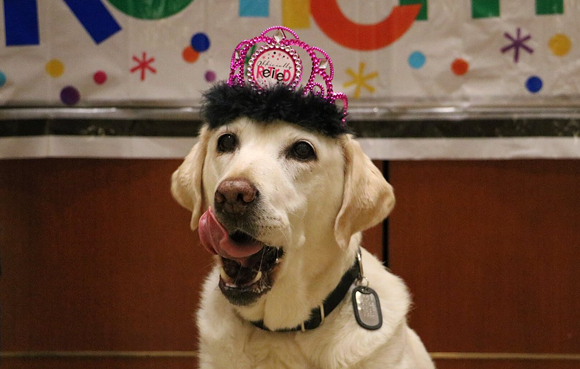 We're celebrating the retirement of one of our most loyal and dedicated employees - & we're sending her off in style. #HappyRetirementGema pic.twitter.com/EejsGJ6D1B

— Orlando Intl Airport (@MCO) June 8, 2017
Gema, a bag-sniffing service dog, is retiring after serving as a loyal employee at the Orlando International Airport for nearly five years. In honor of her retirement, the airport threw her quite the retirement party. 
There she is! K-9 Gema is ready to party. She's retiring after almost 5 years at MCO with handler Eddie. #HappyRetirementGema pic.twitter.com/4PUsHP4rmX

— Orlando Intl Airport (@MCO) June 8, 2017
The airport posted the adorable celebratory activities on Twitter and from the looks of it, Gema had a great time. "We're celebrating the retirement of one of our most loyal and dedicated employees - & we're sending her off in style," the airport announced on its Twitter account.
Yep, she's got a retirement crown. 👑 #HappyRetirementGema pic.twitter.com/ZN5J7VPLZY

— Orlando Intl Airport (@MCO) June 8, 2017
Airport employees, including Gema's handler Eddie, and Gema's fellow K-9 besties were in attendance at the lavish sendoff party last week. The celebration had balloons, a "Happy Retirement!" banner and some sweet looking dog treats. Gema even got to wear a sparkling crown fit for a queen. 
Surprise! We brought Gema's besties to help send her off - fellow MCO K-9s Grand, Fina and Liza. 🐶#HappyRetirementGema pic.twitter.com/LKY8KdMqz8

— Orlando Intl Airport (@MCO) June 8, 2017
As for her life after retirement, it seems pretty fabulous, too. According to the airport, the dog will be spending her golden years living with her handler, Eddie. The two have formed quite the bond. "In darkness, she is my eyes. She's my sister, my protection. When lonely, she lets me know I'm not," Eddie remarked on the close relationship between he and his four-legged pal. Congratulations Gema! If your retirement is anything like your retirement party, it's sure to be doggone awesome. 
Happiness level: 💯 #HappyRetirementGema pic.twitter.com/WvVVhboyG6

— Orlando Intl Airport (@MCO) June 8, 2017
 Written By: Red