Wichita Police Bid Heartfelt Goodbye To Dog Killed In Line Of Duty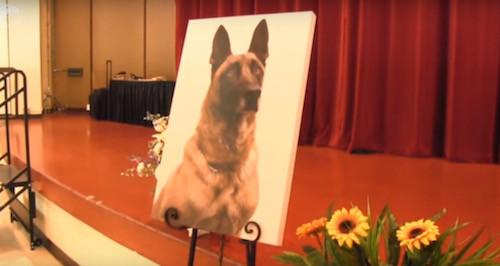 The Wichita Police Department held a touching memorial service to honor Rooster the police dog, who was shot and killed in the line of duty on March 18. The heroic dog was killed while trying to apprehend an armed suspect. The suspect was shot and killed on the scene. 
Rooster, a Belgian Malinois, served with the Wichita Police Department for five years and is the Department's first canine killed in the line of duty.
"Quite honestly, I owe my life to him," said Rooster's partner Officer Daniel Gumm seemingly holding back tears. "So he was not an officer, but at the same time he was my partner every day."
According to The Wichita Eagle, about 250 people gathered at Exhibition Hall in Century II for the memorial service. K-9 dogs from law enforcement agencies across the state were also in attendance at Rooster's memorial service.
In the video shown above, people in the crowd can be seen wiping tears from their faces as the heroic dog Rooster is honored and the mournful sounds of bagpipes play in the background.
Courtesy of KSN
"I wonder what would have happened if Rooster wasn't there that night, but I am grateful that Rooster was able to go in there and take the hit for our guys," said Pastor Dave Henion, who also spoke at the ceremony. "He should be honored, that's what we're doing here. And I pray for Dan, for his family that knew Rooster and cared about him and I know Dan had a special relationship with that partner of his," Pastor Dave said of the close bond Officer Daniel Gumm and Rooster maintained.
Rooster's body was cremated and the urn holding the hero's ashes will be placed on display at Patrol South, which is the bureau where he served.
Written By: Carl