Watch: Dog Swims Into Water To Rescue Drowning Baby Deer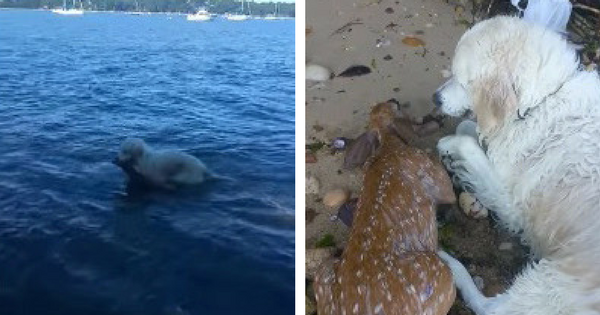 A very good dog named Storm was caught on video swimming into the water to save a struggling baby deer from drowning. Mark Freely was walking along a Long Island beach with his pups Storm and Sarah on Sunday when a few minutes into the walk, Storm spotted something in the harbor and jumped into action. 
Freely began filming  when he realized that Storm was trying to drag the baby deer back to shore to save the fawn's life. Storm was able to safely drag the helpless deer to shore with his owner yelling words of encouragement along the way. 
According to Fox 13 News, once the deer was back safely on land, Storm looked after it until a veterinarian and a member from Strong Island Animal Rescue arrived. The fawn is now being treated and is expected to make a full recovery thanks in part to the incredible rescue efforts from Storm, who is a very good boy! Watch the amazing video showing heroic dog Storm rescue the fawn below! 
Written By: Aussie
Related articles
Soshe
the Maltese dog survived Hurricane Florence flooding by floating on a living room sofa for a week! 
Read more >
dog
fall
pumpkin
treat a dog
A visit to a local pumpkin patch with your dog can certainly make for some wonderful memories not to mention some great photo opportunities! But, before you plan on bringing your pooch along to the pumpkin patch, be sure to check out these tips!
Read more >
George Washington was known for his bravery, wisdom, leadership, loyalty, and love for dogs. The first President of the United States had no human children of his own, but he was said to have had about 50 four-legged fur kids. One little-known story about George Washington depicts his affection for dogs and his outstanding character.
Read more >