Two Therapy Dogs In Love Get Married At Children's Hospital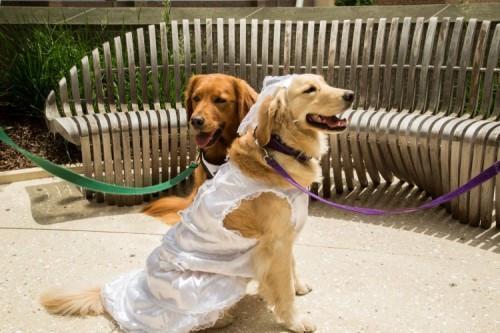 Children's Mercy Hospital
Here comes the dog! Two therapy dogs who fell in love made it official in a pawsitively adorable wedding ceremony at the Children's Mercy Hospital in Kansas City, Missouri.
The golden retrievers named Hope and Hunter met in 2015 and had a close bond from the start.
Children's Mercy Hospital
"Hope has always been Hunter's special girlfriend, which made us think, 'Why not have some fun and make it official?'" Missy Stover, the Child Life Volunteer and therapeutic programs manager, told People. "If ever two dogs deserved a wedding, it's these two." 
Children's Mercy Hospital
The therapy dogs spend 40 hours a week cheering up young patients at the hospital. Hope's handler Allison Bowring and others noticed the special bond the two dogs had. "They're always spending much of their lives together. Since they first met in 2015, they've always been revved up to see each other. There's a special energy about them," Bowring told People. 
Children's Mercy Hospital
There were about 60 patients and staffers invited to the wedding, which took place at the Children's Mercy Lisa Barth Chapel on May 18th. The pawesome ceremony was even streamed live to the children who were unable to leave their hospital beds. 
Children's Mercy Hospital
"The wedding was a fun way to get the kids more involved in the lives of these two special dogs," Stover said. 
Children's Mercy Hospital
The canine wedding had a minister, a dog wedding cake with the names of the pups, balloons and even doggie bags for the guests filled with adorable dog-collar bracelets, stickers, bubbles and other goodies.
Children's Mercy Hospital
As Hope walked down the aisle, the song "Chapel of Love" played in the background. The bride wore a beautiful white dress and veil and the groom looked dashing in a tuxedo collar. The nuptials ended with the sweet pups engaging in a slobbery kiss and sharing a delicious dog biscuit.
Written By: Amber