Marine Dog With Cancer Gets Hero's Farwell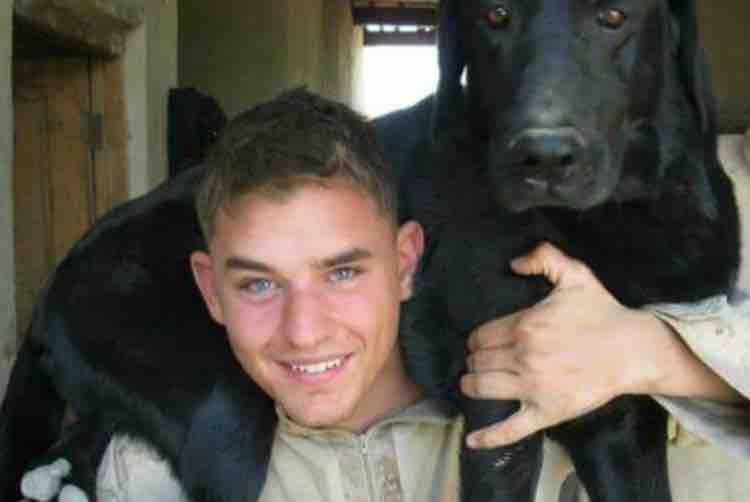 Hundreds of people in Michigan showed up to give their final respect to an American hero–a dog named Cena. Cena, a 10-year-old black labrador, completed three tours in Afghanistan as a bomb-sniffing dog for the U.S. Marines, during which time he saved the lives of many marines in combat. During one tour, the dog was partnered with Marine Corps veteran Jeff DeYoung. 
DeYoung and Cena got paired up in 2009 after a personality test after which they deployed to Afghanistan together. The dog and his partner were reunited in 2014 when DeYoung adopted the black lab as his service dog for PTSD. 
When a veterinarian diagnosed Cena with bone cancer and gave him only weeks to live, DeYoung was devastated. 
"To be frank, I hid under the desk in the vet's office, I threw my phone against the wall and the vet had to leave the room until I could compose myself," DeYoung told Fox 17 News about finding out about Cena's cancer diagnosis.
After DeYoung found out his precious pooch had only weeks to live, the veteran became determined to create special and lasting memories with him during his remaining time on earth. So, the veteran organized a hero's farewell for his loyal canine.
This past Wednesday, Cena was honored in a ceremony in Muskegon, Michigan during which DeYoung took his dog on one last ride in a topless jeep decorated and named "Cancer Response Team." The ceremony was attended by Michigan State Police, the U.S. Marine Corps League, Muskegon County Sheriff's Office, Muskegon City Police, Muskegon Fire Department and others.
Cena wore a Marine vest during the event where he was saluted by attendees before being euthanized at the U.S. LST 393, a museum ship in Muskegon, and then carried off in a United States flag-draped coffin. 
"Any dog that served overseas deserves exactly what I've done for Cena, if not more," DeYoung told ABC.
A GoFundMe page was set up for donations to help build a headstone for Cena. 
 Written By: Billy