Dog Has Incredible Transformation After Cruel Kids Cover Him In Glue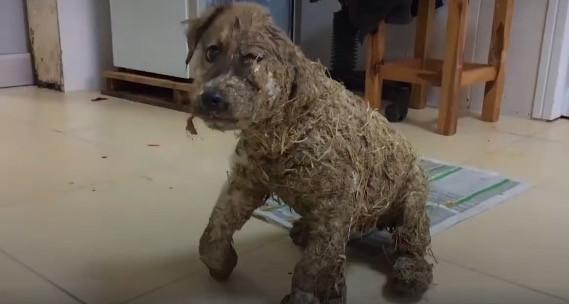 When Pascal was brought to the He'art of Rescue shelter in Istanbul, Turkey, he hardly looked like a dog. 
The poor pup was completely covered in glue, dirt and mud. Rescuers believe that a group of cruel kids covered the innocent dog in glue and then proceeded to drag him through the mud. The glue hardened and formed a shell around the stray dog's skin.
When the rescuers tended to Pascal with love, attention and professional care, he was able to make a life-changing recovery. Pascal went from being depressed, timid and on the streets to happy, playful and in a loving home. Watch the video above to see Pascal's incredible transformation!
Written By: Brownie
Related articles
Soshe
the Maltese dog survived Hurricane Florence flooding by floating on a living room sofa for a week! 
Read more >
dog
fall
pumpkin
treat a dog
A visit to a local pumpkin patch with your dog can certainly make for some wonderful memories not to mention some great photo opportunities! But, before you plan on bringing your pooch along to the pumpkin patch, be sure to check out these tips!
Read more >
George Washington was known for his bravery, wisdom, leadership, loyalty, and love for dogs. The first President of the United States had no human children of his own, but he was said to have had about 50 four-legged fur kids. One little-known story about George Washington depicts his affection for dogs and his outstanding character.
Read more >