Dog Found Stabbed And Beaten In Suitcase Has Died Due To His Injuries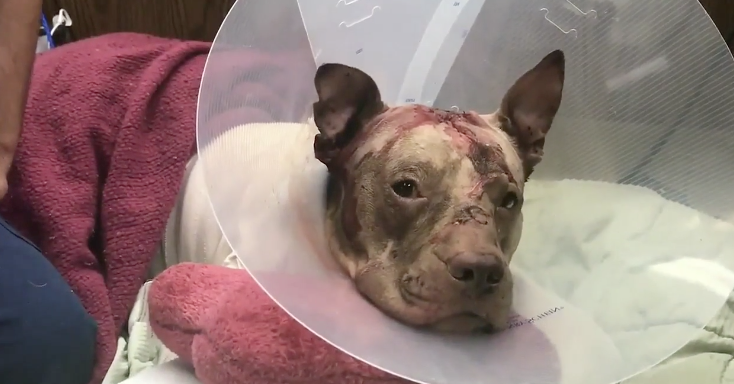 A dog that was found severely injured and stuffed inside a suitcase in Hollywood, Florida has died.
According to VCA Hollywood Animal Hospital, the dog who was named Ollie by the staff,  died Thursday night due to his injuries. Hospital staff said they worked for over an hour to keep the poor dog alive, but unfortunately, Ollie was unable to overcome the horrible damage done to him. 
The 1-year-old pit bull had severe lacerations to the top of his head and the rest of his body. He was found stuffed into a blue suitcase early Tuesday morning after having been beaten and stabbed 20 to 30 times. And remarkably, the dog was said to have been as sweet as can be with the hospital staff despite the evil he knew before being rescued. 
Ollie's story went viral after he was found. People from all over the country were pulling for the sweet pup. "People from all over the country and a couple of international people have reached out to let us know they have seen Ollie's story and they are pulling for him," said Dr. Nicole Patterson, a vet at Hollywood Animal Hospital. 
The Grateful Paws Animal Rescue group began a Gofundmepage to help the dog and their initial goal was surpassed by people touched by Ollie's story. "Their original goal was $1,500 and they got $35,000," Dr. Nicole Patterson said. "It is just incredible that people have been so involved and compassionate."
Police are still searching for whoever cruelly abused and abandoned Ollie in the suitcase.
Anyone with information about Ollie's case is asked to call the Hollywood Police Department at 954-967-4411 or Broward County Crime Stoppers at 954-493-TIPS. A reward of $10,000 is being offered for information that leads to an arrest. 
Written By: Mars