Camera Catches Dog Starting A House Fire By Stealing A Pancake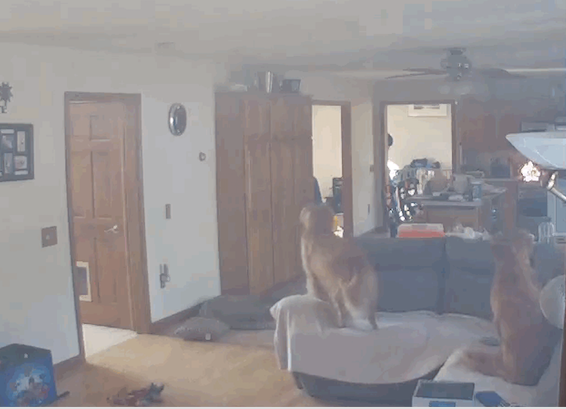 A dog stealing pancakes left on the stove started a house fire in a Massachusetts home. In the video shown above, a Golden Retriever is trying to steal some pancakes on top of the stove before accidentally hitting the ignition button on the stove while the owners were not home. 
Just minutes later, a fire begins to burn and smoke fills the room triggering the fire alarm. The sneaky Golden and his innocent Golden Retriever pal can then be seen jumping on the couch watching the stove become ablaze from afar. 
Thankfully, the owners had a network monitoring system. When the smoke detector went off, it alerted the police and fire departments. Officers arrived at the house moments later and turned off the burners.
The Southwick Fire Department posted the footage online and advised people with pets and young children to consider investing in safety covers for stove controls and also cautioned against leaving items on the stove.
Related articles
The Fourth of July is a celebratory time for family backyard barbecues, enjoying the summer weather and of course, fireworks. But for our dogs, Independence Day can be a stressful time full of loud noises. These can cause anxiety, and throw even the biggest dogs into a frenzy. It's important to be prepared, and to make sure your dog is ready for a day and night full of potentially scary sounds. Here are some tips to keep your dog safe and calm this July Fourth.
Read more >
George Washington was known for his bravery, wisdom, leadership, loyalty, and love for dogs. The first President of the United States had no human children of his own, but he was said to have had about 50 four-legged fur kids. One little-known story about George Washington depicts his affection for dogs and his outstanding character.
Read more >
3-legged dog
Blog
Dog
treatadog
Tesla is releasing a new feature called "Dog Mode" that will aim to keep pets safe, cool and comfortable while left unattended in the vehicle.
The electric car maker introduced "Dog Mode" via Twitter Wednesday night. Tesla says that activating "Dog Mode" results in "setting a cabin temperature to keep your dog comfortable while letting passersby know they don't need to worry." 
Read more >