Cactus The Dog Wins Medal After Running 140 Mile Marathon Across Sahara Desert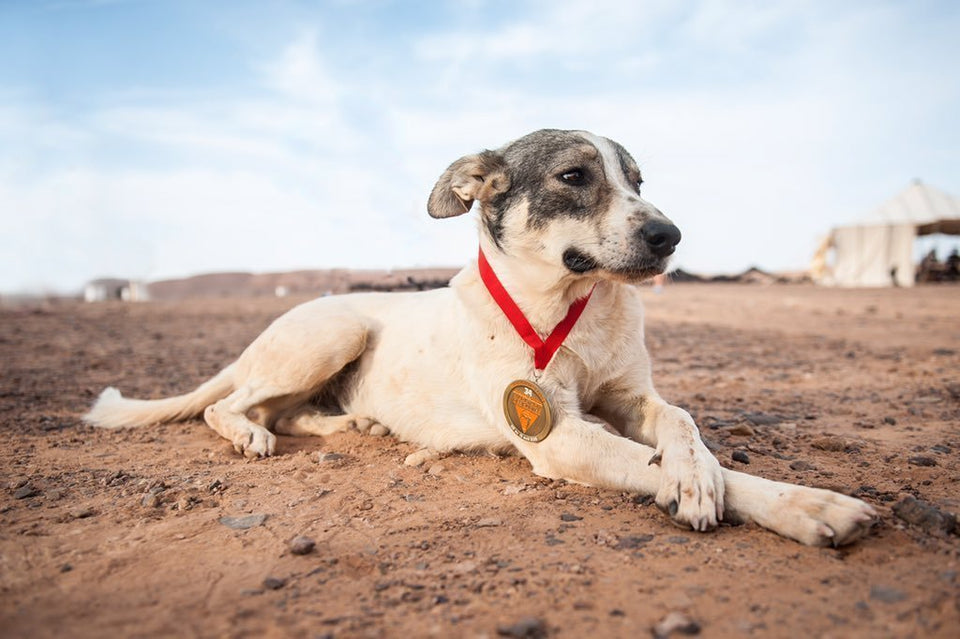 The most popular runner in one of the world's most grueling marathons is not even an official participant in the race nor is he even human!
A dog nicknamed Cactus made an appearance last Monday during the Marathon des Sables, a 6-day 140-mile marathon in the Sahara Desert, coined "the toughest foot race" on the planet.
The doggone determined pup joined the runners on the second day of the 140-mile marathon. Though he joined racers on Day 2 and thus was not eligible for the overall win, Cactus won the hearts of his fellow competitors and people across the world. 
Cactus the MDS dog 🐕🌵
A dog who started to follow runners during the second stage of the race. After finishing it, he took the start of the third and the fourth finishing them all.
He has run more than 120 km and is in good shape!
Is treated as a prince here at the camp 😍 #MDS pic.twitter.com/4VGmwnGSr9

— MARATHON DES SABLES (@marathonDsables) April 11, 2019
When Cactus joined runners on Day Two of the race out of nowhere and then continued to run during the next stages of the race, he soon had many people rooting for him and following him under the hashtag #CactusTheMDSDog. The marathon organizers even gave the dog an official race number of "000" and a GPS device so people could track his progress.
Cactus the finisher 🏅🐕🌵
He made it! He's the first dog to run the MDS 👏💪
He did great on today's 42 km stage 😃
Who's a good boy? 🐶#MDS2019 #MARATHONDESSABLES #CactusTheMdsDog pic.twitter.com/5MmFtyESRN

— MARATHON DES SABLES (@marathonDsables) April 12, 2019
When he crossed the finish line at the final stage of the race, Cactus had run more than 100 miles through the desert. The very good boy was even awarded his very own, well-deserved medal after he crossed the finish line!
According to The New York Times, Cactus belongs to inn-keeper Karen Hadfield, who said that Cactus runs over 20 miles a day "just for fun" and that he was having "the greatest time" in the Marathon des Sables.
Racers and race officials made sure Cactus was fed, well-rested and hydrated along the way and that he was reunited with his owners after the completion of the race. 
Cactus really proved that anything is paw-sible if you just believe in yourself!