A Dog Inspired An 8-Year Old Boy To Embrace His Rare Skin Condition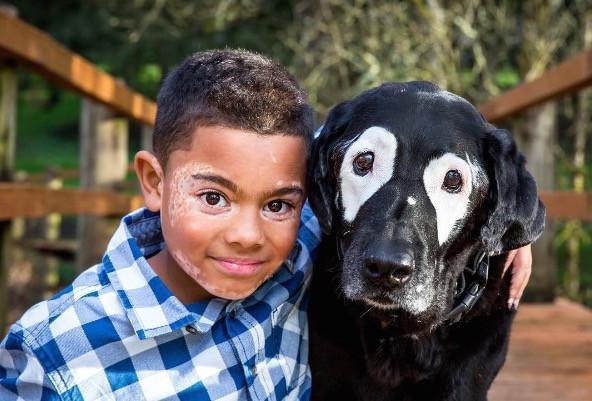 An 8-year old boy named Carter Blanchard, who has a rare skin disorder called vitiligo, was able to fly across the country to meet a dog named Rowdy, who has the same skin condition.
Carter was diagnosed with vitiligo in late 2014 when he was just in kindergarten. Some with the condition have white patches on their arms, legs, or hands. For Carter, the first white patches began appearing around his eyes.
When the condition spread, it caused Carter to lose confidence. "He was at a big school with a lot of kids and his face was transforming very quickly," Carter's mom Stephanie Adcock told ABC News. "The first thing he'd tell me when he got in the car is that he hated his face and hated the way he looked."
Soon after, Adcock happened upon a photo of White-Eyed Rowdy, a black Labrador Retriever, who was also diagnosed with vitiligo in 2014. Like Carter, Rowdy had white splotches around his eyes. The dog has a website and social media accounts and gained an international following because of his unique look. 
Rowdy's owner, Niki Umbenhower, had created the social media pages and website for Rowdy in order to provide a resource for kids struggling with vitiligo. Her goal was to have the kids look to Rowdy as an inspiration. And her plan worked with Carter. When Carter started to watch videos and see pictures of Rowdy online, he had a total change in perspective about his skin condition.
"Vitiligo is a very rare condition and he was very upset that he had it but now he is very proud that he was chosen to have vitiligo and this is the way he is and he wouldn't have it any other way," Adcock told ABC News about her son Carter.
Niki Umbenhower and Adcock started emailing each other and keeping in touch. When a story of Carter and Rowdy's sweet digital friendship was featured on the local news in Oregon, where Rowdy lives, a generous anonymous viewer donated a whopping $5,000 so that Carter and his mom could fly from Arkansas to Oregon to meet the four-legged inspiration Rowdy in person.  
Carter and 13-year old Rowdy met last weekend for the first time. "When we walked in I didn't feel like we were walking in for the very first time, they were family already," Adcock said. "You could tell Rowdy knew something was going on and felt the energy of the room." And Rowdy's owner Umbenhower expressed the same sentiments noting that Rowdy reacted to Carter as if they were old friends.
Sadly, 13-year old Rowdy suffered a seizure the other day. Doctors say he needs more medical tests to see what's wrong. If you would like to help the inspirational Rowdy, visit his GoFundMe Page. 
Written By: Delia