5 Tips To Cleaner Living With Pets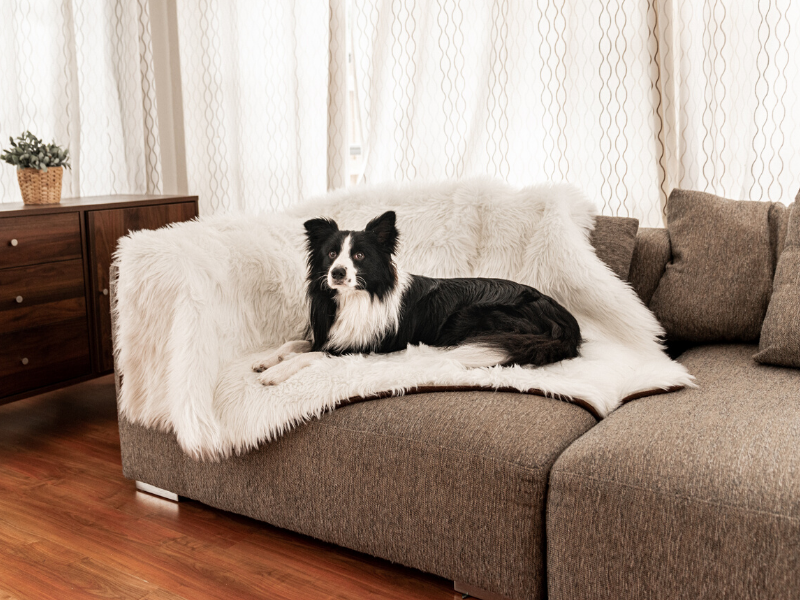 Living with a pet brings many benefits to home life—more cuddles, laughter, health and tail-wagging among them. Yet, all that joy is marked by compromise when it comes to keeping your home clean. Pets (especially dogs) have a tendency to bring the outside in with them...and all over your stuff.
Here at Paw.com, we believe a pet and a clean house can co-exist! Here are 5 Tips for keeping your home clean with a pet:
1. Invest In A Great Vaccum
Vacuum cleaners are great tools for removing obvious pet debris, like fur and dirt, but they are even more essential in helping to control funky odors that build up in a home over time. Sure you'll need great suction, but the filter is where you can begin to separate the great vacuums from the merely passable. And even if you have hardwood floors, investing in a machine with a good fabric setting will help you keep furniture clean and odor-free.
Bonus Tip: clean your home's air ducts at least once per year to avoid the tell-tale "dog smell" that builds up in a home over time.
2. Respond Quickly To Accidents
Seems obvious, right? With proper training, your pet's accidents should be infrequent at most, so really the important thing is to be prepared—and keep your senses sharp. If you happen to take the long way home one day and know there's a chance your little guy didn't hold his bladder, it's worth poking your nose into the other rooms to check for off odors. Always keep an enzyme-based cleaner on hand to scrub and lift as much of from the surface as possible. 
3. Plan For Scratching
Not all pets scratch your furniture, but it is rare to see a kitten or puppy to maturity without a few living memories clawed into your couch. Even when adopting an older pet, it is wise to consider replacing soft materials, like leather, with a more durable fabric or to protect furniture using a hardy Pet Blanket. The same is true for area rugs—and while you're at it, you might consider choosing a color that blends easily with your pet's fur if they are likely to shed!
If your fur baby likes to jump up on the couch or bed, consider investing in Paw.com's PupProtector™ Waterproof Throw Blanket—a blanket fit for the Kings and Queens of the household. The PupProtector™ is a waterproof, machine washable protective option that looks great on furniture and limits the damage done by fur, dirt, spills and scratching damage all while blending seamlessly into home decor.
4. Buy An Easy-To-Wash Pet Bed
Think of how often you clean the sheets of your own bed...now think of the last time you washed your pet's bed. In fact, many run-of-the-mill dog beds are not easily washable. That's why Paw.com created the PupLounge™ & Topper bed system, which allows you to trade out a dirty topper with a clean one—just like your own sheets.
5. Keep Your Furry Friend Clean
While no pet should be washed as often as a human, a quick rinse following some time frolicking in the dirt at the dog park is a good way to prevent that mess from finding its way to your couch. Sometimes a moist toweling-off is all that is required following a nature walk, but all pets benefit from a proper bath every so often in order to lift the dirt that rests deeply in their coat.