4 Ways Dogs Help Veterans Cope With PTSD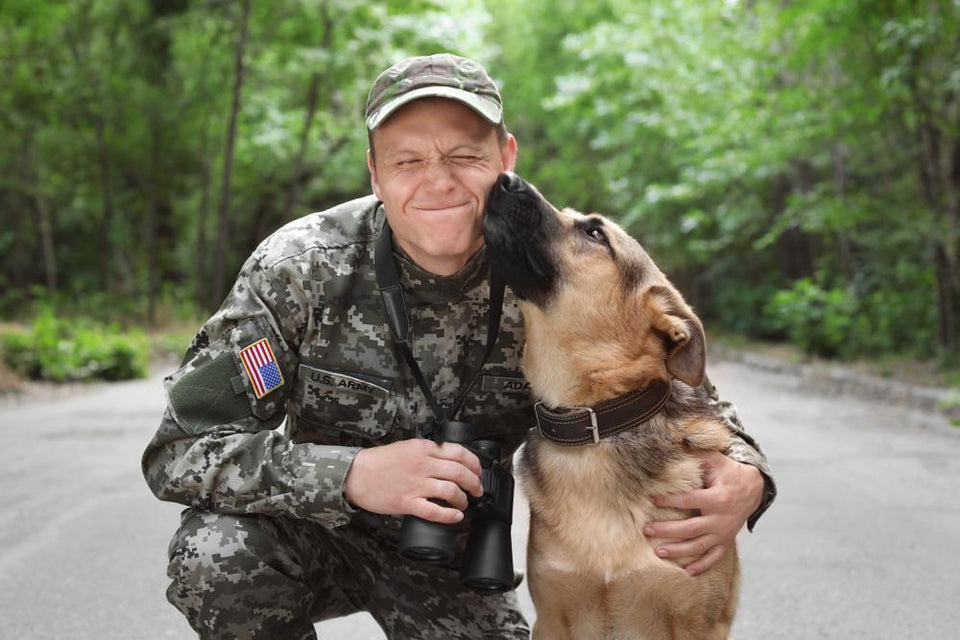 Many veterans returning home from overseas have experienced unimaginable situations that can later cause PTSD. Having a dog can be greatly beneficial to veterans who suffer from post-traumatic stress disorder (PTSD). Here are 4 ways that dogs can help veterans with PTSD live happier lives:
1.) Dogs Help Veterans Feel Safe And Protected 
Nightmares and traumatic flashbacks can lead to veterans with PTSD feeling very vulnerable. Dogs are companions that will remain by the veteran's side to help them feel safe. Service dogs and emotional support dogs are remarkable dogs that can help their handlers attain a sense of safety. 
2.) Dogs Can Help Rebuild Trust
The ability to trust is often lost as a result of PTSD. Dogs are extremely loyal creatures who can help their handlers learn to trust again. In fact, according to Psychology Today, veterans with service dogs had better levels of well-being as their service dogs would help instill in them the ability to trust again slowly but surely. 
3.) Dogs Love Unconditionally
Nothing quite compares to a dog's unconditional love. People affected by PTSD are often ashamed by their condition and it can cause them to push their loved ones away. Service dogs and emotional support dogs are friendly creatures who will offer undying support, unconditional love and understanding.
 4.) Dogs Will Help The Veterans Be More Active
PTSD often causes depression, which will make veterans want to stay cooped up inside. Dogs need lots of exercise and they can help people get out of the house, be more active and even meet people.