3 Tips For Dog Joint Health This Summer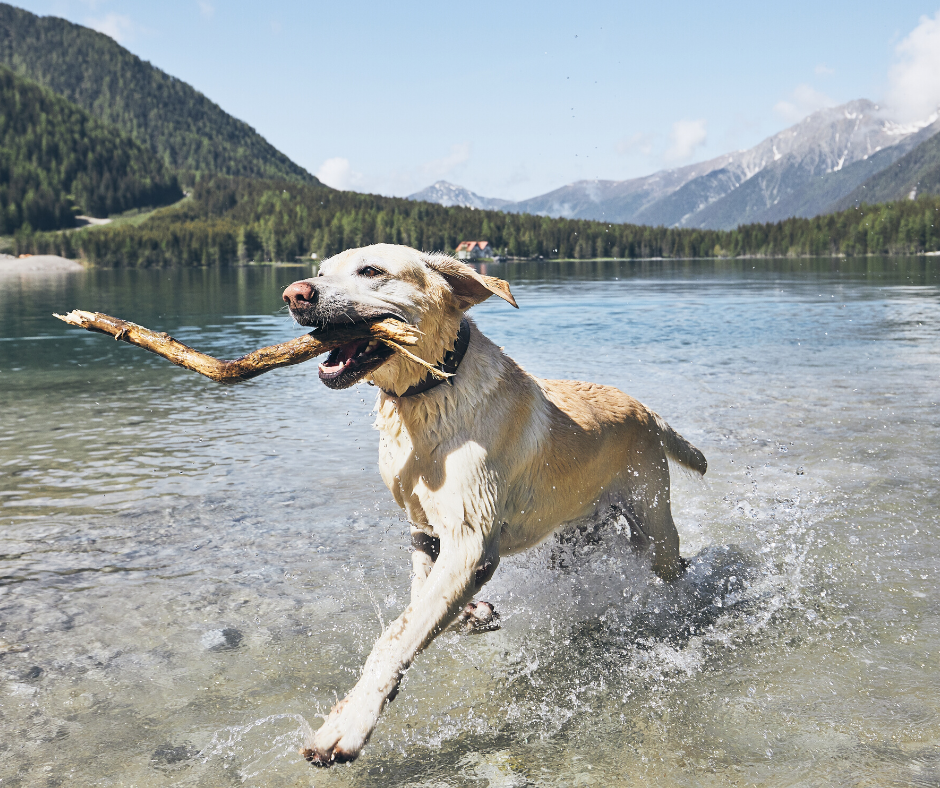 One of the biggest challenges a dog faces as they get older is joint stiffness and loss of mobility. According to the American College of Veterinary Surgeons (ACVS), arthritis affects approximately 25% of the total dog population. We all love our furry family members and would do anything to give them the best quality of life and keep them healthy as long as possible. 
Now that summer is finally upon us, we begin to spend more time outdoors and increase our activity levels. Of course we want to bring our pups along for all the summer fun, but it's important to make sure they are comfortable and not experiencing joint pain.
How Can You Tell if Your Dog is Experiencing Joint Pain?
Unfortunately, your pup can't walk up to you and say "Hey mom and dad! My hip is starting to hurt!", so it's crucial that you keep an eye out for general characteristics of joint pain and stiffness. Here are some of the common signs that your pooch may be experiencing joint stress:
Your dog has a hard time climbing stairs.

They're limping or favoring a leg.

They're less enthusiastic to play or go on walks. 

It's become difficult for them to jump onto the couch or bed.

They struggle to stand after lying down.
What You Can You Do To Help Your Dog's Joints
Consider these 3 tips to help keep your dog's joints healthy this summer:

1. Keep it Moving

Exercise is key to your dog's health and longevity. This single component plays a huge role in your dog's bodily functions and overall well-being. 
In order to keep your dog's joints healthy and functioning, it's important to keep them active. 
Although senior dogs don't have the same mobility and energy as younger dogs do, it's still important to fit mild exercise into their daily routines. Low-impact movement like walking or playtime keeps the joints moving, which helps to build strength and flexibility.  
Another paw-fect summertime exercise for pups with achy joints is swimming. The natural buoyancy of water allows your pup to use their muscles without applying unwanted pressure on their joints – plus it'll cool them down in the summer heat!
2. Supplements for Dog Joint Health
Just as we humans take vitamins and supplements to support our own health, so should our four-legged friends! 
Whether your dog is young or old, adding a joint supplement can help maintain joint health and reduce the risk of them developing arthritis. Since larger dog breeds are known to experience symptoms of arthritis and hip dysplasia earlier than smaller breeds, the National Animal Supplement Council believes it's best to start supplements sooner than later. 
Glucosamine, Chondroitin, and Omega-3 supplements are all commonly recommended by professionals to support joint health. With so many different brands of supplements on the market, we suggest doing your research and consulting with your veterinarian on which is the best fit for your fur baby's needs.
3. Dog Beds for Joint Health
Just like humans, our furry family members need a good night's rest for optimal health, especially after a long summer day full of activity.
It's important to find a bed that offers support and relieves pressure on the bones and joints. Choosing the right dog bed for your pup's health is just as important as choosing the right nutritious dog food. 
Orthopedic human grade memory foam is a helpful way to combat your dog's joint pain. A high quality orthopedic memory foam dog bed can be beneficial to preventing arthritis and hip dysplasia in dogs, as well as providing relief to any discomfort they may already be experiencing. [Learn more]